It is a complete restaurant management system comprising of software, running on a computer and an android application. It has been designed to ensure your hotel staffs pay more attention to the needs of your diners, enhance efficiency, better manage service and wow your guests. Android app enables your staff to focus on customer service rather than running around on the floor. This Restaurant menu app with the complete software system has potential to have a positive impact on your revenue too.
RESTROID restaurant management system will easily let you manage multitude of food and beverage services at your restaurant and hotel restaurant property. The seamlessly integrated solution is easy to implement and manage and is suitable for Restaurants, Bars, Cafe, or any other type of food and beverage service you offer at your hotel. Manage your dine in operations and billing operations effortlessly with RESTROID. The intelligent set of reports provides in-depth insight into your restaurant's performance.
 SOFTWARE
Manages Restaurant Information, Tax Details, TIN, and other billing information.
Menu Management (Adding and Updating categories, sub – categories, super sub categories and products.
Enabling and disabling features of KOT, Service Tax, USP, VAT for billing
Order Submission
Managing multiple table orders simultaneously
Admin and users setup on various hierarchy
Setting up tables and managing reservations
Daily sales report, bills, total sales over period of time, table reservations, notifications, happy hours, etc.
Billing Operations
The final and the most critical process for every food and beverage establishment and the one which will leave a lasting impression on the guests. Between orders and meals, there are many requests or change in orders, Restroid manages the process without any hiccups making billing process effortless for your team and the guests.
Menu Management and Item Modifiers
Depending on your food and beverage establishment, you can create as many as menus you require with each menu having its own menu groups, menu sub groups, item types, groups, rates and items modifiers. The system keeps complete track of orders, Item Recipes created in the system also ensures that the consumption is tracked accurately as stock and inventory is updated in real time.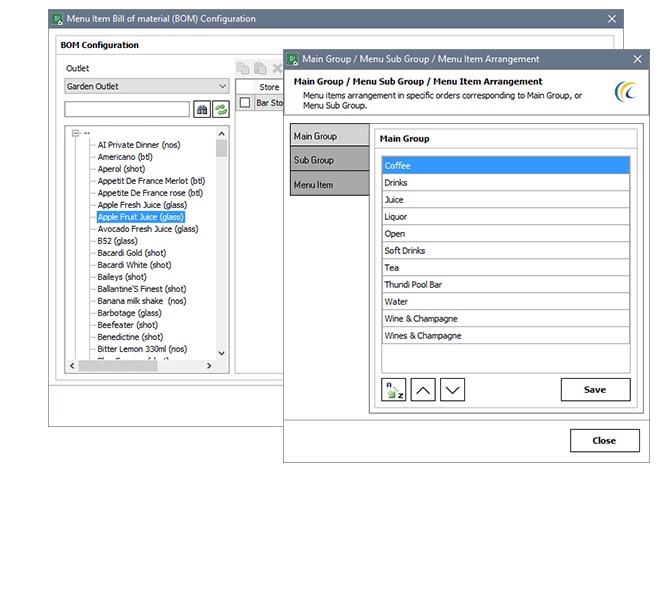 Create Multiple Menus
Create and manage multiple number of menus as per your requirements with complete freedom to customize individual menu item group, menu items and even item modifiers for each item. Once set, you can easily switch between different menu types as the day goes, you can have a breakfast buffet menu in the mornings for your guest and switch to your regular menu during lunch and dinner.
Order Customization with Item Modifiers
Taking orders in the system is a bliss, the bifurcated menu items and categories makes it easy for you to go back and forth between different menu sections and adding items to the order. Modify each item ordered with item modifiers as per the guests' request and create various combos.
Different Menus, Different Rates and Taxes
Having different menu types and items, managing different rates and taxes can be a cumbersome task. To make things more simple and straight forward, you can set different rates and taxes for different items. You can add up to 5 different rates for an individual item as per location for efficient track of stock and inventory. Set different rates for Dine In, Room Service, Take Away and Delivery orders and even set different item category wise taxes by setting up 4 different tax rates in the system. As per your setting you can set different rates of Happy Hours and Special Price, which automatically changes as per set Day, Date and even Time.
ANDROID APP
Bid farewell to the traditional paper menu, the dynamic new digital restaurant menu is here now. Packed with numerous robust features, Restroid tablet menu is user-friendly and offers a superior integration with Restaurant POS. Digitalizing your restaurant's traditional menu, iMenu is an interactive new app that engages guest with the restaurant more than ever. Increase Revenue
Increase your average bill value by up selling items, specials, etc. by promoting them with pictures and up-to-date information.
Speed Up Service
Automated process allows your staff to attend and service your guests more efficiently increasing the rotation of customers per table and less waiting time for the customers.
Customize and Reorganize
Restaurants get complete freedom to change the content of the menu at any time according to changing requirements. Menu style, items and overall menu can be edited and modified without worrying about additional cost traditionally associated with printing paper menus.
Promote in Style
Promote specials with vivid HD pictures and new menu items allowing your customers to know the latest offerings from your restaurant.
Customer Experience
Offer your customers menu with vivid pictures, food descriptions, etc. giving them a fresh and unique interactive experience.
Offline Mode
Restroid iMenu gives restaurants liberty to use the online application even without being constantly connected to internet. Particularity helpful in case of downtime error or connectivity issues at the premises.
Quick Search
The quick search option in Restroid iMenu allows the guest and the staff to rapidly search for a specific item they are looking from various sub-menu items instead of lengthy manual search.
Feedback Generation
The product has been a blessing to the restaurant. The kitchen staffs loves reading the reviews about the food and it just makes them want to do it better next time. The regular customers are happier than ever as the communication has become stronger through feedback generation.